The following methods of settlement are Microsoft.

It is a talk in の Windows 2000.
Although Windows NT and Windows XP will probably be solvable similarly, it cannot check (the direction which saw by doing will be saved if you can announce you a result by e-mail).
Direction of Windows 95, 98, Me, and other OSs, I'm sorry


Does wallpaper (background of a screen) become [ Explorer ] deep-blue by the ABEND? :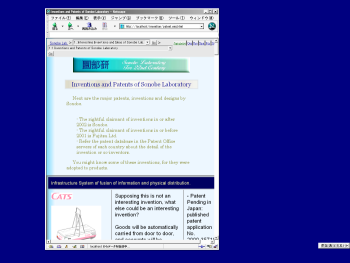 Explorer ( my Computer

C:, my Document

My Picture

My Music

And it is the program which is taking out file sight screens, such as "a file and a retrieval of a folder. It also executes the inportant task of window management. "

Using . (OAK of Fujitsu etc.), for example, front-end processors, which happens to something momentum, and generating at the moment of changing into the kanji from kana experienced mostly. (Kana and Kanji are kinds of Japanese Characters.)

. to which all the convenient utensils that are usually in the edge under a screen will disappear at this time Start button

The tool bar which a taskbar, a task tray, quick starting, and other users set up

. These Should be Lost Suddenly.

Since it keeps, is it surprised?

But it gives up in order that "An operation may be impossible", and it is necessary to reswitch on a power supply or to reboot nothing (reboot).
If fate is bad, since the file and the destruction of a folder which were under employment and which it was may be caused, turning off the power suddenly to it is that it is better not to do if possible.

A screen is readily revitalized such at the time. There is the method of "revival of a miracle" to carry out.



* If you are searching "How to recover unoperatable IE in which bars disappeared", it will be found in another explanation article.
A security screen is taken out with Ctrl-Alt-Delete, and "a task manager (T)" is clicked.
For Ctrl-Alt-Delete, the sequence which is pressing the Delete key while setting without sequence's not caring about the Ctrl key and the Alt key but both pressing and detaching them and to. Detach is . which is not cared about anyhow.
("Cancellation" is clicked to have returned without doing anything from this screen.)





Then, a control program called the task manager of Windows is started.
(To bypass the Ctrl-Alt-Delete and security screen process mentioned above, type only Ctrl-Shift-Esc, which is the shortcut to task manager of Windows.)






Task A manager's "process" tab is clicked and it is made a process screen.
An image name finds the row of "Explorer.Exe" (if an "image name" is clicked and it is made alphabetical order, it will be easy to find it).

An Explorer.Exe top is reversed by click, . which clicks the button of a closure (E) of a process is also carried out, and "O.K." will be clicked if you ask whether I may end immediately.
If there are a plurality of Explorer.Exe(s), it will be made to all end similarly.






Moreover, it is made to end as follows using a task manager in the condition that it cannot refresh even if the window of a program which failed in the kana-kanji conversion cannot close but a window becomes dirty.
The display (G) of a right-click-process is clicked for the program of a "with [ no response ]" condition with the application tab of a task manager.






Dispatching (N) of a new task is chosen from a file (F) by the task manager.





a window called creation (N) of a new task comes


"explorer.exe" is inputted into the column of . name (O) out of which and "O.K." is clicked.





Then, the deep-blue wallpaper returns to the right thing. Since a start button, a taskbar, and a task tray revive now. The operation of computer is attained once.


however, -- which will be for the fault of -- Windows -- : which has [ that it is various and ] a defective point






It is the icon which the icon host which appears in a task tray is only the icon of the resident program only for applicable users, and has been set on . wallpaper with which the icon of a resident program across the board to all users does not appear.



A program name to start, program - start


You have to start by の click.


Even if you had connected line before the fault, the line might be disconneted. If so, connect agein.
However, the icon of the circuit transshipment which is always in a task tray it has disappeared -- coming out -- isn't it? But OK



The circuit transshipment name of a start-(setting S)-network and dialup connection (N)-usage


It will be O.K. if it clicks.


The sequence of the task bar buttons in the taskbar-area may be reversed.
If it has occurred, dragging the taskbar-button-part left and right within the taskbar area might recover the reversed order. Try to change the location of taskbar-button-part and the location of another tool-bar-part, such as quick start, left and right if you are using (an-)other tool bar(s).


even if it drags the icon of the address column of a browser -- the address -- copy and -- paste was not made but compilation of a bookmark may have been started .


Thus, it is slight earliness if work is temporarily settled with something after it is inconvenient, and retention of a file also finishes.



Start-shutdown-reboot


Let's reboot later.


Procedure End.



Abstract of the procedure
Start task manager by Ctrl-Alt-Delete.


Kill forcedly all "explorer.exe" in "process".


Start "explorer.exe" by New task(N).


Continue your work on the computer for a while.


Reboot the computer later.



(1) Alike the phenomenon, at Windows 2000, after Explorer has carried out the error end, it may rise by itself.





Thus, the window "an application error"

が出て
"Since the error occurred, Explorer.exe is ended. It is necessary to start a program once again. "
The message to say comes out.
Although a result is the same even if it clicks "OK" and does not carry out, I think that the time when the clicked direction takes a log decreases and it progresses previously early.
. from which the wallpaper (background) which became deep-blue for dozens of seconds returns to what he set up since Explorer.exe is automatically started at this time . as a top with the phenomenon same although it is good whose icon of a task tray decreases -- let's cope with it similarly

I have read such information that, in Windows XP, explorer.exe falldowns tends to occur frequently when the IME toolbar

has been embedded in the task tray in the tool bar (by the user). To take the IME tool bar out of the task tray might solve the problem.


(2) Moreover, there is also such a phenomenon. :

It is the phenomenon [ the run-time error of Internet Explorer

comes out of OAK of FUJITSU etc. suddenly, and / a kana-kanji conversion ] no longer finishing at the time of a kana-kanji conversion.





It is the window "Microsoft Visual C++ Runtime Library (at the time of execution library)."
"Runtime Error (an error is made at the time of execution)!
Program: C:\Program Files\Internet Explorer\IEXPLORE.EXE
abnormal program termination" (program unusual end)
It says.

Then, a kana-kanji conversion becomes slow, and it takes about 2 seconds at every conversion, and is troubled very much.

This phenomenon can be restored if the response-less program of relevance is terminated by the task manager as mentioned above.
It is unavoidable that the contents edited with much trouble are not saved at a file when the program merely terminated compulsorily is correcting the file.