I designed a clock which has mood like a fairy tale.
It has no explicit hands ...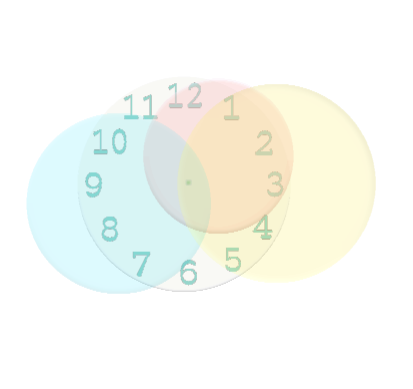 When I decorated my booth wall of my company with a print of this Fairy Clock, a woman said me that she came to love it at the first glance, so I gave her the print.





When she decorated the wall of her room at home with the clock print, her female friend who came to her room, said her that she came to love it at the first glance, so she had to give her the print.
Description of the Design


Although the circle adopted by this clock design is a comparatively simple figure, adequate degree of complexity is produced by biasing the center of the cicle and by introduction of overlapping factor of transparent boards.

As a result, users can enjoy comfortably the figure of the overlap and the change of the color.

The combination of colors to adopt to the hour hand, minute hand and second hand could be as follows:

- the beautiful three primary colors
- pale pastel colors, bringing the image of the world of fairies
- dark gray, middle gray and light gray, bringing delicate shade
- bluish green and light blue of the image of sea
- yellowish green, yellow and the maple red of the autumn mountains.

Here the pastel colors has been adopted, produced by having the three primary colors pale.

Users, such as persons busy with work even at home, persons waiting for his/her family with anxiety, might turn to be easier in mind and forget his/her stress in the change of the round pale colors by this design clock.

In spite of that, a merit of the design is the more practicality than expected that users can read the time from the position relation between the rotation axis and each center of the boards.

You can recognize the current time indicated by the fairy clock below as 10:08:30, if you watch it carefully.